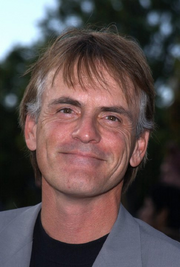 Rob Paulsen (March 11, 1956 in Detroit, Michigan as Robert Fredrick Paulsen III) is a American voice actor.
He is best known for voicing Yakko Warner from "Animaniacs", Major Glory from "Dexter's Laboratory," Carl Wheezer from the Jimmy Neutron series and Donatello in Teenage Mutant Ninja Turtles.
He joined Big Idea since Beauty and the Beet and is doing voice for the Netflix series VeggieTales in the House.
Voices
Radish Soldier
Tom Celeriac
Fun Facts
Works at Big Idea
Ad blocker interference detected!
Wikia is a free-to-use site that makes money from advertising. We have a modified experience for viewers using ad blockers

Wikia is not accessible if you've made further modifications. Remove the custom ad blocker rule(s) and the page will load as expected.