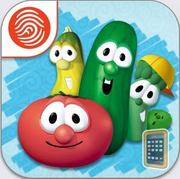 Scribble My VeggieTales Story is a game developed by Fingerprint Digital, and is based off "Scribble My Story".
Description
Scribble My VeggieTales Story brings the VeggieTales cast of characters and wholesome storylines to the award-winning Scribble Press App – an app Time Magazine selected as one of the 25 best apps of 2012. This very Veggie junior version is designed especially for kids ages 3-7. It features a read-aloud play button, special tap-to-change words and thematic stickers and backgrounds to inspire countless stories.
Kids can share all their original VeggieTales stories with parents through the Fingerprint network. Scribble My Veggie Story empowers even the youngest authors and illustrators to create mini masterpieces with features including:
Age-appropriate story-making tools and drawing set
1 included storyline based on the all new The Little House That Stood DVD
Little House that Stood stickers and backgrounds
1 included Little House That Stood Coloring Book
1 included Blank Book to create and record original stories
Auto-share function to send books to parents through browser, pdf or iBooks
Expand the Scribble My Veggie Story library with more stories, stickers and backgrounds with these add-on Veggie packets from the popular DVD series:
Includes the Fingerprint Play Experience for Kids and Parents:
Supports child-safe, multi-player gaming. Kids will love the opportunity to challenge each other; while parents will rest easy knowing Fingerprint is a completely safe digital experience.
Family Play Circle - A single, shared family account makes it easy for kids and parents to share a device and allows parents to track the game play and learning of multiple children under a single account.
Communication - Fingerprint's proprietary safe social features – Mom-Comm and Kid-Comm – allow kids and parents to send one another fun and encouraging messages.
Digital rewards - Fun and learning are the best reward, but now kids can also level up and earn expanded experiences with Fingerprint's new Coin-o-copia.
Play Insights - Fingerprint proactively delivers graphical learning reports to parents, detailing minutes played, apps played and most importantly, what was learned.