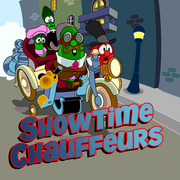 Showtime Chauffeurs
was an online game from the official website. It was also included in the
A Snoodle's Tale
DVD as a Windows executable.
Gameplay
Use the arrow keys to navigate the rocket-carriage and help Cavis and Millward pick up the pedestrians and bring them back to the theatre before the show starts! Watch out for hat and doughnut cars!
Ad blocker interference detected!
Wikia is a free-to-use site that makes money from advertising. We have a modified experience for viewers using ad blockers

Wikia is not accessible if you've made further modifications. Remove the custom ad blocker rule(s) and the page will load as expected.