Silly Little Thing Called Love
Director(s)
Producer(s)
Music by
Released

January 19, 2010

Runtime

81 minutes
Silly Little Thing Called Love is a special VeggieTales compilations. All feature stories and songs about love. 
Plot
Larry and Jean-Claude are doing a special interview with the kids on about the subject of love (eg. neighbors, family, favorite foods, and God).
Segment #1: The Story of Flibber-o-loo (from Are You My Neighbor?)
Song #1: Endangered Love (from King George and the Ducky)
Segment #2: Duke and the Great Pie War
Song #2: Love My Lips (from Dave and the Giant Pickle)
Segment #3: Madame Blueberry
Song #3: His Cheeseburger (from Madame Blueberry)
Song #4: The Bunny Song (from Rack, Shack & Benny)
Characters
Stories
Silly Songs
Fun Facts
Explanations
Pot roast is a braised dish by browning roast beef through slow cooking in a oven.
Trivia
This is the first special VeggieTales compilation to have the 2010 VeggieTales theme song.
Remarks
The continuity of some of scenes are probably out of order when Larry was interviewing the kids.

At the start of the special, Annie is seen with one paper heart cut out, but in later shots, she is seen with more.
In some shots, the girl with the cookie is seen finishing it, but is later seen with the cookie still.

The Bunny Song is technically not a Silly Song.
The kid with the juice pop mistaken God for Jesus when she said that he died in the cross,
Goofs
Real-World References
The title is based off of Queen's song "Crazy Little Thing Called Love".
Gallery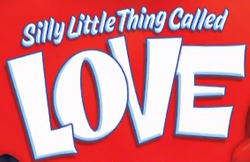 Ad blocker interference detected!
Wikia is a free-to-use site that makes money from advertising. We have a modified experience for viewers using ad blockers

Wikia is not accessible if you've made further modifications. Remove the custom ad blocker rule(s) and the page will load as expected.