Silly Songs with Larry and You!
is a game from the official website.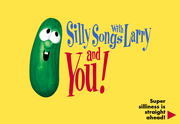 Plot
Larry's been hard at work on a new Silly Song but he's run out of ideas! You can help him write a new song by giving him some silly words to use.
Songs to Choose From
Trivia
The game is no longer available after the website was revamped. However, the game can still be found at Internet Archives.
External link
Ad blocker interference detected!
Wikia is a free-to-use site that makes money from advertising. We have a modified experience for viewers using ad blockers

Wikia is not accessible if you've made further modifications. Remove the custom ad blocker rule(s) and the page will load as expected.