Sing-Alongs: Dance of the Cucumber
is a Sing-Along DVD released in 2006. It is the second in a series of 4 DVDs, the others being
Sing-Alongs: Do the Moo Shoo
,
Sing-Alongs: I Love My Lips
, and
Sing-Alongs: I Can Be Your Friend
.
Songs
Fun Facts
Four out of the ten songs (The Forgiveness Song, I Can Be Your Friend, I Want to Dance, and My Day) are not actual Silly Songs.
Instrumental bits from His Cheeseburger are heard throughout the DVD, but that song is not included in the actual video.
The credits state Mike Nawrocki wrote My Day and Larry's High Silk Hat, which is not true.
Gallery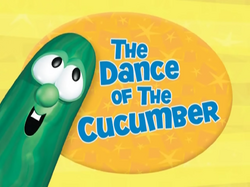 Ad blocker interference detected!
Wikia is a free-to-use site that makes money from advertising. We have a modified experience for viewers using ad blockers

Wikia is not accessible if you've made further modifications. Remove the custom ad blocker rule(s) and the page will load as expected.