Sing-Alongs: Do the Moo Shoo
is a Sing-Along DVD released in 2006. It is the first in a series of 4 DVDs, the others being
Sing-Alongs: Dance of the Cucumber
,
Sing-Alongs: I Love My Lips
, and
Sing-Alongs: I Can Be Your Friend
.
Description
Tofu? Kung Fu? What is the Moo Shoo?

These super silly songs are sure to bring out smiles! Join Bob the Tomato, Larry the Cucumber and the rest of the VeggieTales crew in this all-new collection of favorite sing-along songs that the whole family is sure to enjoy!
Songs
Features
Previews
Fun Facts
The first image on the back is just a still from the Boyz in the Sink album, and it's the only image not to have lyrics on the bottom.
Only two songs (The Bunny Song and Share of Friends) were not actual Silly Songs.
Seven songs came first before the song of the name.
Sport Utility Vehicle, Pizza Angel, and I Want to Dance are credited, but those songs are not included on the DVD.
Gallery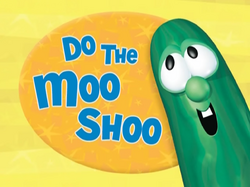 Ad blocker interference detected!
Wikia is a free-to-use site that makes money from advertising. We have a modified experience for viewers using ad blockers

Wikia is not accessible if you've made further modifications. Remove the custom ad blocker rule(s) and the page will load as expected.