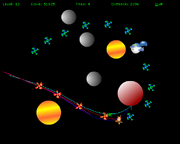 Spaced Penguin! was a online game based on 3-2-1 Penguins!
Plot
Hey there, space cadet! Kevin took a wrong turn and ended up lost in space. Use the highly advanced GPS (Giant Penguin Slingshot) to launch him back to the ship!
How to play
Click on Kevin and hold down your mouse button. Drag your mouse to pull him back, and release the button to launch him! Use the gravity of nearby planets to help send Kevin in the right direction. How many points can you score?
There are 25 levels total in the game.
Fun Facts
The game is no longer available after the website was revamped. However, the game can still be found at Internet Archives.
External links
Ad blocker interference detected!
Wikia is a free-to-use site that makes money from advertising. We have a modified experience for viewers using ad blockers

Wikia is not accessible if you've made further modifications. Remove the custom ad blocker rule(s) and the page will load as expected.