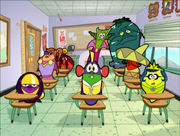 Super Hero Class 101 is a class at Bumblyburg Community College. The teacher for the class is Bok Choy, former superhero.
Students
Bumpkin
Iron Clad
American Pie
Rocketbulb
Clive the Chiveman
Trivia
Write the second section of your page here.
Ad blocker interference detected!
Wikia is a free-to-use site that makes money from advertising. We have a modified experience for viewers using ad blockers

Wikia is not accessible if you've made further modifications. Remove the custom ad blocker rule(s) and the page will load as expected.