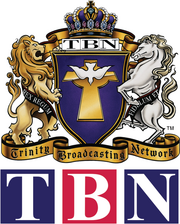 The Trinity Broadcasting Network (TBN) is an American Christian Christian-based television station. It was founded in 1973 by Paul Crouch, Jan Crouch, Jim, and Tammy Faye Bakker.
The channel aired episodes of VeggieTales and 3-2-1 Penguins! after Big Idea's contract with NBC expired, and still does as of today.
Episodes Aired
VeggieTales
3-2-1 Penguins
LarryBoy: The Cartoon Adventures
Trivia
On airings of older episodes of VeggieTales, the 2010 intro plasters the original intro.
External link