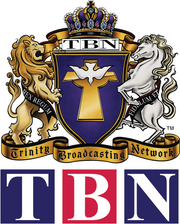 The Trinity Broadcasting Network (TBN) is an American Christian Christian-based television station. It was founded in 1973 by Paul Crouch, Jan Crouch, Jim, and Tammy Faye Bakker.
The channel aired episodes of VeggieTales and 3-2-1 Penguins! after Big Idea's contract with NBC expired.
Episodes Aired
VeggieTales
3-2-1 Penguins
LarryBoy: The Cartoon Adventures
External link
Ad blocker interference detected!
Wikia is a free-to-use site that makes money from advertising. We have a modified experience for viewers using ad blockers

Wikia is not accessible if you've made further modifications. Remove the custom ad blocker rule(s) and the page will load as expected.