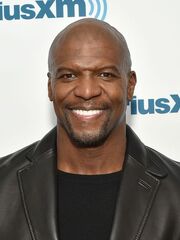 Terry Alan Crews (born July 30, 1968) is an American actor and former American football player. He is perhaps best known for playing Julius on the UPN/CW sitcom Everybody Hates Chris and for his appearances in Old Spice commercials, as well as films such as Friday After Next, White Chicks, Bridesmaids, Idiocracy, Gamer, The Expendables and Cloudy With a Chance of Meatballs 2.
Crews starred as Nick Kingston-Persons in the TBS sitcom Are We There Yet? and as himself in the BET reality series The Family Crews. As of 2014, he plays NYPD Sergeant Terry Jeffords on the Fox sitcom Brooklyn Nine-Nine and hosts the game show Who Wants to Be a Millionaire.
He first joined Big Idea during production of Celery Night Fever.
Voices
Works for VeggieTales