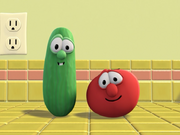 Since the beginning of Big Idea's shows, a lot of the characters might often say the words "That's Right!". This often means that that something is correct.
This phrase started thanks to Bob and Larry saying a few times whenever they start VeggieTales.
Appearances
VeggieTales
Countertops Openings
Where's God When I'm S-Scared?
Larry-Boy! and the Fib from Outer Space!
Josh and the Big Wall!
Sheerluck Holmes
Big River Rescue
The Search for Noah's Umbrella
Robin Good and His Not-So-Merry Men
Laura at Bat - Larry stated this many times to encourage his baseball team.
Other
The Yodelnapper! - Greta states this when Larry-Boy (as Noodle Blabberbop) discovers she's yodelnapping.
Ad blocker interference detected!
Wikia is a free-to-use site that makes money from advertising. We have a modified experience for viewers using ad blockers

Wikia is not accessible if you've made further modifications. Remove the custom ad blocker rule(s) and the page will load as expected.