The Penniless Princess
Director(s)
Writer(s)
Music by
Released

August 11, 2012

Runtime

49 minutes

Previous episode
Next episode
The Penniless Princess is the 44th episode of VeggieTales.
The story is based on Frances Hodgson Burnett's "A Little Princess".
Plot
It starts off with the countertop decorated fancy, and Larry starts off showing the audience "A Little Princess".
Characters
Songs
Imagine with Me
God's Little Princess
No Matter What
Oh Papa
No Matter What (reprise)
God's Little Princess (reprise)
Fun Facts
Explanations
Escargot is a French appetizer of cooked snails.

On a similar note, Chocolate eclairs and croissants are French pastries.

Even though the book it's based on takes place on the late 1800s, the episode takes places in the early 1900s. Brian Roberts states this on the commentary so they can have the teddy bear in the story for Sara.
Trivia
This is the first episode not to use Qwerty since Sumo of the Opera. This is also the first episode to be read on a letter since 2009.
Inside References
Episode Transcript
Gallery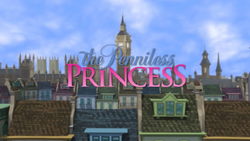 Ad blocker interference detected!
Wikia is a free-to-use site that makes money from advertising. We have a modified experience for viewers using ad blockers

Wikia is not accessible if you've made further modifications. Remove the custom ad blocker rule(s) and the page will load as expected.