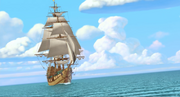 The Steadfast
is the ship of Princess Eloise and Prince Alexander.
It was under attack by Robert when he was trying to capture his niece and nephew so they can tell him where their father is. Eloise and her guardian Willory were safe, but they need a way to rescue Alexander.
There are two different rooms on the ship. There is a observatory room, where Eloise and Willory were hiding. There is a also a powder room, where there are cannons and gun powder in case for defense.
It was last seen at the Clapping Pass.
Fun Facts
According to Mike Nawrocki, the ship has different sets. This included the ship itself, the deck, and the rooms. The reason why they did this is because they didn't want to be too complex like what they did with the pirate ship from Jonah, where it was it done in one set.
The portraits in the observatory are a family portrait of the royal family, and the other pictures were the same ones used in Sheerluck Holmes.
Ad blocker interference detected!
Wikia is a free-to-use site that makes money from advertising. We have a modified experience for viewers using ad blockers

Wikia is not accessible if you've made further modifications. Remove the custom ad blocker rule(s) and the page will load as expected.