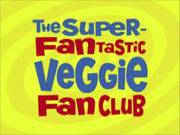 The Super Fantastic Veggie Fan Club was a magazine and fan club Big Idea ran from late 2001 through 2003. It replaced What's The Big Idea?.
You can join by either getting a slip that came with the video you purchased, or on the official website.
It ended around 2003, just when the company was about to move from Lombard to Franklin.
Details
On the flyer in some videos, the yearly membership cost $19.95. According to the commercial, fans would access exclusive things, including a pick of their favorite VeggieTales video, a member certificate, toys, and a bi-monthly newsletter from the company. You can also get a Ultra Cool Membership Kit including a Bob and Larry toy, a surprise gift from Bob and Larry, and a special gift for being a year member of the club.
Commercial Appearances
VeggieTales
3-2-1 Penguins!
LarryBoy Cartoon Adventures
Footage
Episodes Used on the Yellow Background
Fun Facts
Gallery