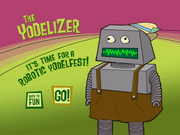 The Yodelizer is a DVD game on The Yodel Napper.
How to play
Simply pick your favorite yodeler, and your style. Then the Yodelizer can do the yodeling.
List of yodelers
Derf
Dorf
Dieter
Sven
Einger
Yodelizer styles
Metallic
Underwater
Radio Buzz
Digi-Bug
Fun Facts
This game name listed the other yodelers Greta kidnapped in the episode.
Ad blocker interference detected!
Wikia is a free-to-use site that makes money from advertising. We have a modified experience for viewers using ad blockers

Wikia is not accessible if you've made further modifications. Remove the custom ad blocker rule(s) and the page will load as expected.