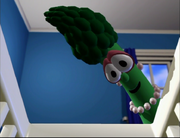 Think Of Me
is the second song from
Rack, Shack and Benny
.
This was a song Shack remembers when he was a baby. He, along with Rack and Benny sang that song instead of the other song Mr. Nezzer insisted.
Lyrics
Think of me everyday
Hold tight to what I say
And I'll be close to you
Even from far away
Know that wherever you are
It is never too far
If you think of me
I'll be with you
Fun Facts
Phil Vischer says that the idea of Junior sucking the pacifier was based on the Simpsons character, Maggie.
Mike Nawrocki states that the animation for Mom Asparagus looks horrible, as she looks like a Macy's Thanksgiving balloon.
Ad blocker interference detected!
Wikia is a free-to-use site that makes money from advertising. We have a modified experience for viewers using ad blockers

Wikia is not accessible if you've made further modifications. Remove the custom ad blocker rule(s) and the page will load as expected.