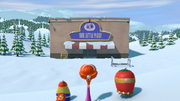 This Little Piggy Grocery was a grocery shop located in the outskirts of Bumblyburg, which Dr. Flurry uses as his hidden lair. It was never explained why it was shut down.
The business' logo is the face of a pig. It may also have been a "ski-in" because a ski-rack sits near the entrance.
It was destroyed after Dr. Flurry unleashed his ultimate weapon.
Fun Facts
The name comes from the nursery rhyme "This Little Piggy".
Ad blocker interference detected!
Wikia is a free-to-use site that makes money from advertising. We have a modified experience for viewers using ad blockers

Wikia is not accessible if you've made further modifications. Remove the custom ad blocker rule(s) and the page will load as expected.