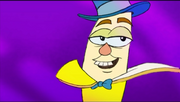 Top Banana
is a fictional television show that's seen on
VeggieTales
. The premise of the show is about a talking banana with a top hat who slips on his own peel. This is Alfred's favorite show whenever he's not busy.
Easter Egg
The actual show can be watched as an Easter Egg on LarryBoy and the Bad Apple. In the show, Top Banana keeps slipping and everyone at the audience is laughing about it until they eventually get annoyed.
Fun Facts
Tim Hodge stated he was originally going to do in cut out animation based on Terry Gilliam's, but then decided to do it in stop motion since he remembered he was good at it as a kid. But then he changed it to 2D animation due to him discovering on claymation is hard.

He also states he deleted every attempts he did on the show in that previous format.
Ad blocker interference detected!
Wikia is a free-to-use site that makes money from advertising. We have a modified experience for viewers using ad blockers

Wikia is not accessible if you've made further modifications. Remove the custom ad blocker rule(s) and the page will load as expected.