There are many trucks used in VeggieTales.
George's truck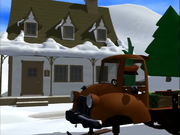 George uses a truck for delivering the mail. It is colored brown (blue in the original) with skis on the front and caterpillar treads on the back. It also has winch.
It only appeared in The Toy That Saved Christmas.
The old fashion pickup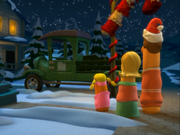 This truck originated from
Sumo of the Opera
.
It was originally colored blue, then green in later appearances.
Gallery
Ad blocker interference detected!
Wikia is a free-to-use site that makes money from advertising. We have a modified experience for viewers using ad blockers

Wikia is not accessible if you've made further modifications. Remove the custom ad blocker rule(s) and the page will load as expected.