'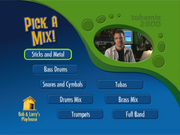 '
Tuba Mix Panel
is a bonus feature seen from
Gideon: Tuba Warrior
.
It is hosted by Kurt Heinecke, who discusses about the different instruments he used for the temp track on the scene of Gideon's battle.
List of mix tracks
Sticks and metal
Bass Drums
Snares and Cymbals
Drum mix
Trumpets
Tubas
Brass mix
Full Band
Ad blocker interference detected!
Wikia is a free-to-use site that makes money from advertising. We have a modified experience for viewers using ad blockers

Wikia is not accessible if you've made further modifications. Remove the custom ad blocker rule(s) and the page will load as expected.