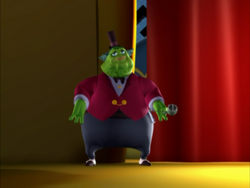 Uncle Blobb
Species: Alien (Unnamed species)
Gender: Male
Hair Color: Light blue
Eye Color: Black
Uncle Blobb is a real estate agent and a former carnival barker at the Carnival Moon.
Bio
Personality
Physical Appearance
Uncle Blobb is a humanoid alien, somewhat resembling a green frog with blue hair. He wears a magenta tuxedo with black shoes and bowtie, and a cummerbund around his waist. He also wears a top hat with a ribbon that is the same color as his tux.
Filmography
Voice Actor
Fun Facts
Uncle Blobb's looks and performance are based on Zero Mostel's character Max Bialystock from "The Producers". Zidgel even mentioned that he looks like him on a commentary.
Blobb's motivation is similar to the Coachman from Pinocchio, where they make profits by using children. In this case, he turns the Pumpkin-headed kids into seeds.
Uncle Blobb's name came from Daniel Lopez Munoz's concept art when he was just named "Uncle Blob" at the time. Also from that same piece, he was going to be a mob boss of jelly aliens.
Gallery
Ad blocker interference detected!
Wikia is a free-to-use site that makes money from advertising. We have a modified experience for viewers using ad blockers

Wikia is not accessible if you've made further modifications. Remove the custom ad blocker rule(s) and the page will load as expected.