Creativity City
is a PC activity game.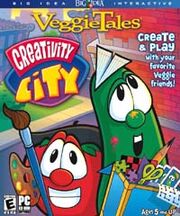 Plot
There's so much to do in Creativity City! Take a tour with Bob the Tomato and Larry the Cucumber. Visit the shops to design and print your own creations -- even games and activities!
Bob's Bookworks

Check out Bob's colossal collection of activities! Design your own storybooks and electronic books to send to family. Even create photoframes, bookmarks, notepads, coloring pages, calendars and more!

Junior's Toybox

Exciting games and activities! Design your own mazes, connect-the-dots, card games, puzzles, stickers and a Pin the Tooth on Larry party game! Then print them out for hours of fun!

VeggiePlex Theater

Be a star! Create an amazing "photo mosaic" of your own face, then use your imagination to create electronic posters and, of course, VeggieTales® movie posters. Look out, Hollywood!

Post Office

Express your creativity with lots of fun activities! Make your own greeting cards, stationery, e-cards and more!

Larry's Sign Shack

Larry's in a pickle! How can one cucumber create all of these signs? Put your creativity into overdrive with fun activities that include creating and coloring posters, banners and doorknob hangers!

Art's Gallery
Parental Controls

Parents, save your printer's ink! Now you can set the number of pages your kids print in Creativity City, plus control whether they can print in color or in black and white only.
Activities
Bob's Bookworks
E-books
Storybooks
Notepads
Diaries
Calendars
Bookmarks
Coloring books
Photo frames
Junior's Toybox
Mix-up Veggies
Connect-the-dot-o-tron
Card games
Maze-O-Matic
Puzzles
Paper airplanes
Classic games
Stickers
Party stuff
Larry's Sign Shack
Banners
Placemats
Doorknob hangers
Certificates
Growth charts
Room signs
VeggiePlex Theater
E-posters
Door posters
Movie posters
Patchwork Pictures
The Post Office
Envelopes
Letterhead
Greeting cards
Invitations
Postcards
E-cards
Fun Facts