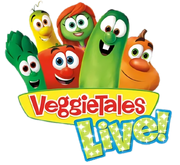 VeggieTales Live! is the live touring show based on the main VeggieTales series. The show opened on January 29, 2002 with a production of VeggieTales Live! On Stage playing at the State Theatre in Minneapolis, Minnesota.
The official website for the shows is located at www.veggietales.com/live. The show also has an official Facebook fan page with regular updates and information on the touring shows.
Show Listing
Ad blocker interference detected!
Wikia is a free-to-use site that makes money from advertising. We have a modified experience for viewers using ad blockers

Wikia is not accessible if you've made further modifications. Remove the custom ad blocker rule(s) and the page will load as expected.