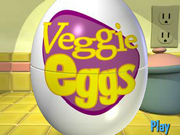 Veggie Eggs
was a game from the official website.
How to play
Think you know your Veggies? This taxing trivia challenge will bend your noodle good! For each question you see pop up, click on the answer you think is right! It's as simple as that!
Trivia
The music heard in the game is from Endangered Love.
The game is no longer available after the website was revamped. However, the game can still be found at Internet Archives.
External links
Ad blocker interference detected!
Wikia is a free-to-use site that makes money from advertising. We have a modified experience for viewers using ad blockers

Wikia is not accessible if you've made further modifications. Remove the custom ad blocker rule(s) and the page will load as expected.