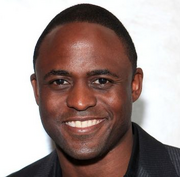 Wayne Alphonso Brady
 (born June 2, 1972) is an American actor, singer,comedian, and television personality, known for his work as a regular on the American version of the improvisational comedy television series 
Whose Line Is It Anyway?
. He was the host of the daytime talk show 
The Wayne Brady Show
, the original host of Fox's 
Don't Forget the Lyrics!
, and has hosted 
Let's Make a Deal
 since its 2009 revival.
He joined Big Idea during production on Noah's Ark.
Voices
Works for VeggieTales
Ad blocker interference detected!
Wikia is a free-to-use site that makes money from advertising. We have a modified experience for viewers using ad blockers

Wikia is not accessible if you've made further modifications. Remove the custom ad blocker rule(s) and the page will load as expected.