Where Have All the Staplers Gone? is the 27th Silly Songs with Larry. It is a Broadway-style parody of "Where Have All the Flowers Gone?"
Lyrics
Have you seen the scissors, miss?
They're in the bottom drawer.
I tried that drawer, but they're there no more.
I know, I thought for sure.
Have you seen the masking tape?
It's right next to the phone.
Fun Facts
The scene of Larry and Petunia being in cel shaded is rendered in a different filter in Maya. However, this resulted Larry having his tooth missing in the process.
This is the final Silly Song to be animated by Huhu Studios until The Hopperena.
Gallery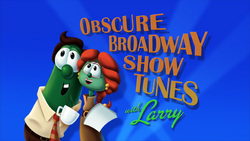 Ad blocker interference detected!
Wikia is a free-to-use site that makes money from advertising. We have a modified experience for viewers using ad blockers

Wikia is not accessible if you've made further modifications. Remove the custom ad blocker rule(s) and the page will load as expected.