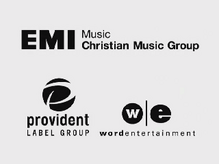 Word Entertainment
 is a Christian faith-based entertainment company based in Nashville, Tennessee. They teamed with Big Idea for reprints and prints of VeggieTales.
Releases
Prints
Reprints
Word Entertainment has reprinted lots of VeggieTales episodes from the 1995 reprint of Where's God When I'm S-Scared? to the 2006 reprint of Are You My Neighbor?.
Fun Facts
The 1997 VHS of Very Silly Songs! features a teaser for Larry-Boy! and the Fib from Outer Space!.
The 2000 VHS of The Toy That Saved Christmas contains a teaser for Esther... The Girl Who Became Queen.
The 2000 VHSs of King George and the Ducky and Esther... The Girl Who Became Queen feature teasers for 3-2-1 Penguins!.
Ad blocker interference detected!
Wikia is a free-to-use site that makes money from advertising. We have a modified experience for viewers using ad blockers

Wikia is not accessible if you've made further modifications. Remove the custom ad blocker rule(s) and the page will load as expected.