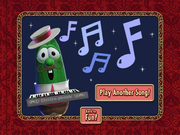 Ye Olde Silly Synth is a DVD game on The Star of Christmas.
Plot
Millward got a brand new Electro-Phonic keyboard for Christmas...he said that you could play with it.
How to play
Use the arrow buttons on your remote to pick a song, then style, and a word. Each song Millward plays is about 30 seconds.
Songs
Jingle Bells
Auld Lang Syne
Style
Word
Fun Facts
Considering the total number of each song, style, and word in this game (3x), the player can make a combination of 9 songs.
Ad blocker interference detected!
Wikia is a free-to-use site that makes money from advertising. We have a modified experience for viewers using ad blockers

Wikia is not accessible if you've made further modifications. Remove the custom ad blocker rule(s) and the page will load as expected.